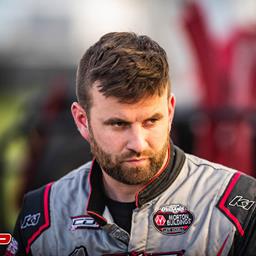 ---
Dillard scores $5,000 STLMS triumph at Cotton Bowl
Cade Dillard raced to his first victory of the season on Saturday night with a $5,000 winning performance in the finale of the inaugural Texas Late Model Stampede. The Southern Touring Late Model Series (STLMS) victory came aboard his S&S Fishing & Rental Inc. No. 97 Krohn Farms / Black Diamond Race Car / Clements Racing Engine Super Late Model. (Rachel Plant photo)
He also added a runner-up finish in Friday night's program.
"We had a great weekend in Texas. B.J. (Robinson) did a great job and was better than us on Friday, but Saturday we hit the ground running and got the 'W'," Dillard said. "A big shoutout to everyone involved with the inaugural Texas Late Model Stampede. We need more special events for Super Late Models in our region, so hopefully this deal continues to grow.
"We're looking forward to heading to Davenport (Speedway) this weekend, and hopefully we can come back with a couple of big checks to hang on the wall. Thanks so much to everyone on our racecar for making this all possible."
On Friday afternoon, Cade Dillard traveled to Cotton Bowl Speedway (Paige, Texas) to pilot his Krohn Farms No. 97 Late Model in the opening round of the doubleheader weekend with the Southern Touring Late Model Series (STLMS). With 35 Late Models entered, Cade laid down the fastest time in his group before picking up a heat race win. Unable to work past polesitter B.J. Robinson in the feature, Dillard scored a second-place finish, which came behind Robinson.
The following night, Dillard qualified second-fastest overall before capturing a convincing heat race victory. Outrunning B.J. Robinson and Timothy Culp in the feature, Cade claimed his first win of the season and a $5,000 prize. Culp, Robinson, Steven Whiteaker Jr., and Shane Hebert trailed him the checkers in the 40-lap affair.
Full results from the weekend can be found at www.STLMS.com .
The upcoming weekend – March 25-26 – will take the team to Davenport (Iowa) Speedway for the 2022 edition of the Thaw Brawl. The Mid America Racing Series (MARS) Super Late Model weekend includes a $10,000-to-win program on Friday night, and a $20,000-to-win finale on Saturday night.
For more information on the weekend, please visit www.DavenportIaSpeedway.com.
Back to News